Details zu
Vinyl Junkies - Adventures In Record Collecting - Buch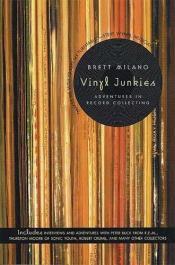 Rezensionen
Es wurden bisher keine Bewertungen für dieses Buch abgegeben.
Buch
Originaltitel
Originalsprache
Englisch
Erstveröffentlichung
Unbekannt
Band (Reihe)
-
Typ
Buch
Genre
Sachbuch: Musik,Tanz,Theater,Film,Hörfunk u. Fernsehen
Auflage
Titel
Sprache
Englisch
Verlag
St Martin's Press
Jahr
2003
Seitenanzahl
230
ISBN
0312304277
EAN
9780312304270
Ausgabe
Taschenbuch
Auflage
Unbekannt
Inhalt/Klappentext
From the first time a record was pressed back in 1894, people have been fascinated with the black spinning disks that elevate our mood at parties, get us through rough patches in our relationships, and provide the background music to our daily routines. Record collectors - once thought to be the denizens of flea markets and garage sales - have been elevated to icon status through book and films like High Fidelity, Ghost World, and now Vinyl Junkies. Brett Milano dives deep into the piles of old vinyl, crowded closets, stuffed-to-the-rafters warehouses, and even his own stack of 33s and 45s to be the first to uncover the allure, the attraction, and sometimes the insanity that is all part of record collecting. Join Milano as he travels across the United States to the hot spots of collecting and the homes of collectors as he lifts the veil of their beloved hobby.