Details zu
The Witching Hour - Buch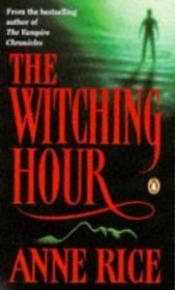 Rezensionen
Es wurden bisher keine Bewertungen für dieses Buch abgegeben.
Buch
Originaltitel
Originalsprache
Englisch (Amerikanisch)
Erstveröffentlichung
1990
Band (Reihe)
Typ
Buch
Genre
Belletristik: Horror
Auflage
Titel
Sprache
Englisch, Englisch (Amerikanisch)
Übersetzt von
-
Verlag
Penguin Books
Jahr
1991
Seitenanzahl
1207
ISBN
0140132031
EAN
9780140132038
Ausgabe
Taschenbuch
Auflage
Unbekannt
Inhalt/Klappentext
She is the thirteenth and strongest of the witches - the doorway through which he can finally consummate his insatiable desire.

Rowan Mayfair is a beautiful, successful neurosurgeon with an extraordinary power to heal - or to harm. While sailing off the California coast she rescues a drowning man, Michael Curry. But Mischael's brush with death leaves him with a terrifying psychic ability and disturbing images that drive him back to his, and Rowan's, native New Orleans.

As the two gradually unravel the secret of Michael's strange gift and Rowan's hidden past, their love sttory is interwoven with the history of the rich and powerful Mayfair family - a history of three centuries of incest, violence and dark sensuality.

And at the heart of the mystery is the seductive, evil and increasingly potent spirit with whom Michael and Rowan are inescapably linked. His name is Lasher, and he is a lover of witches.
Bemerkungen
First published in 1990