Details zu
The Vampire Armand - Buch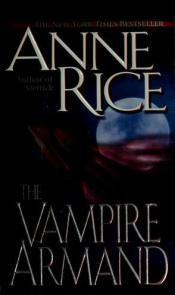 Rezensionen
Es wurden bisher keine Bewertungen für dieses Buch abgegeben.
Buch
Originaltitel
Originalsprache
Englisch (Amerikanisch)
Erstveröffentlichung
1998
Band (Reihe)
Typ
Buch
Genre
Belletristik: Horror
Auflage
Titel
Sprache
Englisch (Amerikanisch)
Verlag
Ballantine Books
Jahr
Unbekannt
Seitenanzahl
457
ISBN
0345434803
EAN
9780345434807
Ausgabe
Taschenbuch
Auflage
Unbekannt
Inhalt/Klappentext
"Anne Rice fans will no doubt be thrilled... Armand until now has played a small role in the Vampire Chronicles. Here he assumes center stage, relating his five hundred years of life to fledgling vampire David Talbot, who plays amanuenis to Armand as he did to Lestat... It's not just the epic plot but Rice's voluptuary worldview thats's the main attraction... Elegantly narrative has always been her hallmark... Rice is equally effective in showing how Armand eventually loses his religion and becomes 'the vagabond angel child of Satan', living under the Paris cemetaries and founding the Grand Guignol-ish Théâtre des Vampires. In the twentieth century, a rehabilitated Armand regains his faith but falls in love with two children who save his life. By the conclusion of Armand, the pupil has become the mentor."
Bemerkungen
(c) 1998
This edition: 2000 or later (contains excerpt of "Merrick" (c) 2000)