Details zu
It's So Easy - And Other Lies - Buch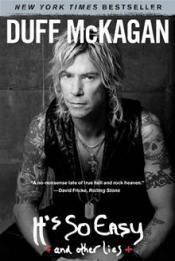 Rezensionen
Es wurden bisher keine Bewertungen für dieses Buch abgegeben.
Buch
Originaltitel
Originalsprache
Englisch
Erstveröffentlichung
Unbekannt
Band (Reihe)
-
Typ
Buch
Genre
Biographische Literatur: Autobiographie
Auflage
Titel
Sprache
Englisch
Verlag
Touchstone
Jahr
2012
Seitenanzahl
365
ISBN
9781451606645
EAN
9781451606645
Ausgabe
Taschenbuch
Auflage
10
Inhalt/Klappentext
In 1984, at the age of twenty, Duff McKagan left his native Seattle - partly to pursue music but mainly to get away from a host of heroin overdoses then decimating his closest group of friends in the local punk scene. In L.A. only a few weeks later and still living in his car, he answered a want ad for a bass player placed by someone who identified himself only as "Slash", Soon after, the most dangerous band in the world was born. Guns N'Roses went on to sell more than 100 million albums worldwide.
In It's So Easy, Duff recounts Guns' unlikely trajectory to a string of multiplatinum albums, sold-out stadium concerts, and global acclaim. But that kind of glory can take its toll, and it did - ultimately - on Duff, as well as on the band itself. As Guns began to splinter, Duff felt that himself was done, too. But his near death as a direct result of alcoholism proved to be his watershed, the turning point taht sent him on a unique path to sobriety and the unexpected choices he has made for himself since.
In a voice that is as honest as it is indelibly hos own, Duff - one of rock's smartest and most articulate personalities - takes readers on a harrowing journey through the dark heart of one of the most notoriou bands in rock-and-roll history and out the other side.