Details zu
The Golden Road - Buch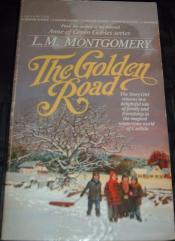 Rezensionen
Es wurden bisher keine Bewertungen für dieses Buch abgegeben.
Buch
Originaltitel
Originalsprache
Englisch
Erstveröffentlichung
1910
Band (Reihe)
Typ
Buch
Genre
Kinder- und Jugendbuch: Jugendbuch
Auflage
Titel
Sprache
Englisch
Verlag
Bantam Books
Jahr
1989
Seitenanzahl
213
ISBN
0553213679
EAN
9780553213676
Ausgabe
Taschenbuch
Auflage
Unbekannt
Inhalt/Klappentext
Introduced in The Story Girl, Sara Stanley is L.M. Montgomery†™s most enchanting heroine since Anne of Green Gables. Sara was born wit a fertile imagination and strong sense of fun †" and she gets her chance to put her talents to good use when she spends the winter with the King family in the old-fashioned town of Carlisle.
On a blustery November day the King children and Sara, the Story Girl, come up with a great idea that will help them endure the dreary winter season. They will publish a magazine of their thoughts and adventures. From †œPersonals† and †œFashion Notes† to an etiquette column and stories of the most interesting happenings in Carlisle, Our Magazine is simply the most entertaining and delightful publication anyone in town has ever read. But seasons pass, and nothing is forever †" and soon it will be time for the Story Girl to leave her good friends on Prince Edward Island, friends with whom she has walked the golden road of youth.

Bemerkungen
First published in 1910