Details zu
Werewolves Of Montpellier - Buch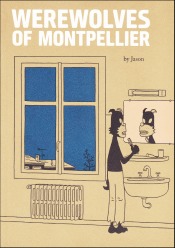 Rezensionen
Es wurden bisher keine Bewertungen für dieses Buch abgegeben.
Buch
Originaltitel
Originalsprache
Französisch
Erstveröffentlichung
Unbekannt
Band (Reihe)
-
Typ
Buch
Genre
Belletristik: Graphic Novel
Auflage
Titel
Sprache
Englisch
Übersetzt von
-
Verlag
FANTAGRAPHICS BOOKS
Jahr
2010
Seitenanzahl
48
ISBN
1606993593
EAN
9781606993590
Ausgabe
Broschiert
Auflage
1
Inhalt/Klappentext
Souther France, early 21st century. A shadowy figure sneaks across the rooftops. The fangs, the pointy ears, the fierce demeanor, the hair - is this the latest addition to the ranks of the urban werewolves so famed in movies and comic books?
As it turns out, no - it's just a lonely and bored expatriate artist who spends his days bumming around his adoptive French city, and his nights dressed up as a larcenous werewolf, for kicks and thrills. But when the real werewolves of Montpellier catch wind of his impersonation, he gets a few more thrills than he bargained for on the next full moon...
Bemerkungen
Translated by Kim Thompson
Designed by Jason and Covey
Production and Lettering by Paul Baresh
Associate Publisher: Eric Reynolds
Published by Gary Roth and Kim Thompson

Special thanks to Jerome Martineau at Editions de Tournon-Carabas.

All characters, stories, and artwork C 2010 by Jason. All rights reserved. Permission to quote or reproduce material for reviews or notices must be obtained from Jason or Fantagraphics Books Inc. at 7563 Lake City Way NE, Seattle WA 98115.

First printing: May, 2010

Printed in China