Details zu
Mr. Monk goes to Germany - Buch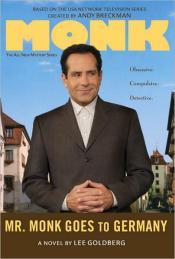 Rezensionen
Es wurden bisher keine Bewertungen für dieses Buch abgegeben.
Buch
Originaltitel
Originalsprache
Englisch
Erstveröffentlichung
2008
Band (Reihe)
Typ
Buch
Genre
Belletristik: Kriminalroman
Auflage
Titel
Sprache
Englisch
Verlag
New American Library
Jahr
2008
Seitenanzahl
275
ISBN
0451225635
EAN
9780451225634
Ausgabe
Taschenbuch
Auflage
1
Inhalt/Klappentext
Adrian Monk is on a roll - solving murders as fast as they come, and not counting his Wheat Chex until they're in the bowl. But when his therapist, Dr. Kroger, leaves for Germany, Monk can't tie his shoes, forgets how to swallow, and loses track of his blinking. Desperate, he follows Dr. Kroger to Germany where he sees a man with six fingers. The man responsible for his wife's death. Or was it just his imagination? Now Monk has to deal with his phobias and the unfriendly polizei to find his man.
Bemerkungen
Based on the USA network television series created by Andy Breckman