Details zu
Rainbow Valley - Buch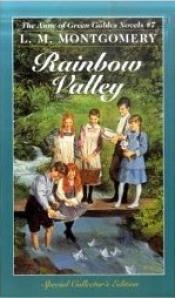 Rezensionen
Es wurden bisher keine Bewertungen für dieses Buch abgegeben.
Buch
Originaltitel
Originalsprache
Englisch
Erstveröffentlichung
1919
Band (Reihe)
Typ
Buch
Genre
Kinder- und Jugendbuch: Jugendbuch
Auflage
Titel
Sprache
Englisch
Verlag
Bantam Books
Jahr
1998
Seitenanzahl
225
ISBN
0553269216
EAN
9780553269215
Ausgabe
Taschenbuch
Auflage
39
Inhalt/Klappentext
Anne Shirley is grown up, has married her beloved Gilbert, and is the mother of six mischievious children. These boys and girls discover a special place all their own, but they never dream of what will happen when a strange family moves into an old mansion nearby. The Meredith clan is two boys and two girls - and a runaway named Mary Vance. Soon the Merediths join Anne's children in their private hideout, intent on carrying out their plans to save Mary from the orphanage, to help the lonely minister find happiness, and to keep a pet rooster from the soup pot. There's always an adventure brewing in the sun-dappled world of Rainbow Valley.
Bemerkungen
This Collector's Editon includes:
The origial, unabridged text
A specially commissioned biography of L. M. Montgomery
A map of Prince Edward Island

*Dieser Band der 8-teiligen Serie ist als einziger nicht auf deutsch erschienen*