Details zu
Shadow Man - Buch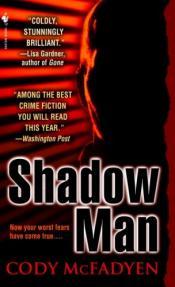 Rezensionen
Es wurden bisher keine Bewertungen für dieses Buch abgegeben.
Buch
Originaltitel
Originalsprache
Englisch
Erstveröffentlichung
2006
Band (Reihe)
Typ
Buch
Genre
Belletristik: Thriller
Auflage
Titel
Sprache
Englisch
Verlag
Bantam Books
Jahr
2007
Seitenanzahl
496
ISBN
0553589938
EAN
9780553589931
Ausgabe
Taschenbuch
Auflage
1
Inhalt/Klappentext
Shocking, heart-wrenching and electrifyingly suspenseful, Cody Mcfadyen†™s SHADOW MAN is the most stunning debut thriller for years.

FBI agent Smoky Barrett is no stranger to the darker recesses of the human mind. But nothing could have prepared her for the day she had to watch her husband and daughter die at the hands of a serial killer. She bears the scars, mental and physical.

Most people would run †" from work, from life, from everything associated with the pain of a shattered existence. But Smoky doesn†™t know how to run †" and when the job that has defined her life comes calling once again with the news that her best friend from high school has been brutally murdered, she finds herself back in the firing line, chasing a hidden killer who will stop at nothing to confront her.

Face to face.