Details zu
Angels & Demons - Buch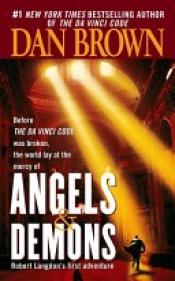 Rezensionen
Es wurden bisher keine Bewertungen für dieses Buch abgegeben.
Buch
Originaltitel
Originalsprache
Englisch (Amerikanisch)
Erstveröffentlichung
2000
Band (Reihe)
Typ
Buch
Genre
Belletristik: Thriller
Auflage
Titel
Sprache
Englisch
Übersetzt von
-
Verlag
Pocket Books
Jahr
2001
Seitenanzahl
572
ISBN
0671027360
EAN
9780671027360
Ausgabe
Taschenbuch
Auflage
2
Inhalt/Klappentext
An ancient secret brotherhood. A devastating new weapon of destruction. An unthinkable target.

World-renowned Harvard symbologist Robet Langdon is summoned to a Swiss research facility to analyze a cryptic symbol seared into the chest of a murdered physicist. What he discovers is unimaginable: a deadly vendetta against the Catholic Church by a centuries-old underground organization - the Illuminati. Desperate to save the Vatican from a powerful time bomb, Langdon joins forces in Rome with the beautiful and mysterious scientist Vittoria Vetra. Together they embark on a frantic hunt through sealed crypts, dangerous catacombs, deserted cathedrals, and the most secretive vault on earth... the long-forgotten Illuminati lair.
Bemerkungen
First published in 2000.

Preis: US$ 7,99