Details zu
Little Men - Buch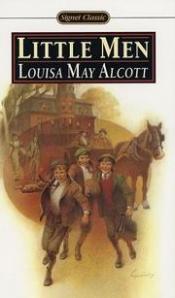 Rezensionen
Es wurden bisher keine Bewertungen für dieses Buch abgegeben.
Buch
Originaltitel
Originalsprache
Englisch
Erstveröffentlichung
1871
Band (Reihe)
Typ
Buch
Genre
Kinder- und Jugendbuch: Jugendbuch
Auflage
Titel
Sprache
Englisch
Verlag
Signet Classic
Jahr
1986
Seitenanzahl
350
ISBN
0451522753
EAN
9780451522757
Ausgabe
Taschenbuch
Auflage
Unbekannt
Inhalt/Klappentext
For everyone who fell in love with tomboyish Jo and the other unforgettable March girls of Little Women, Little Men offers the wonderful experience of seeing beloved characters grow up and begin new adventures. At Plumfield, an extraordinary school, Jo and her warm, wise husband, Professor Bhaer, bring love and a delightfully different education to a group of irrepressible children. Here is the heartwarming story of the ragged orphan Nat, the spoiled Stuffy, and finally naughty Nan, the strong-willed girl who dreams of becoming a doctor. Together with all the lively inhabitants at Plumfield, these are children who come to life with a vitality and realism that have captivated generations of readers. The moving tale begun in Little Women is brought full circle in Little men - an enduring, ever-enchanting American classic of children's literature.
Bemerkungen
First published in 1871

Preis: US$ 4,95