Details zu
How Few Remain - Buch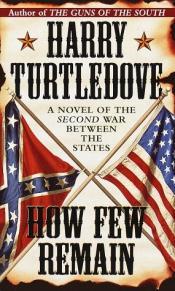 Rezensionen
Es wurden bisher keine Bewertungen für dieses Buch abgegeben.
Buch
Originaltitel
Originalsprache
nicht angegeben
Erstveröffentlichung
1997
Band (Reihe)
Typ
Buch
Genre
Belletristik: Science Fiction, Utopischer Roman
Auflage
Titel
Sprache
Englisch
Übersetzt von
-
Verlag
Del Rey
Jahr
1997
Seitenanzahl
595
ISBN
0345406141
EAN
9780345406149
Ausgabe
Taschenbuch
Auflage
Unbekannt
Inhalt/Klappentext
1881: A generation after the South won the Civil War, America writhedonce more in the bloody throes of battle. Furious over the annexation of key Mexican territory, the United States declared total war against the Confederate States of America once again.

But this was a new kind of war, fought on a lawless frontier where the blue and gray battled not only each other but the Apache, the outlaw, the French, and the English.

As Confederate General Stonewall Jackson again demonstrated his military expertise, the North struggled to find a leader who could prove his equal. In the Second War Between the States, the times, the stakes, and the battle lines had changed - and so would history...